Qualifications and Experiences
Experienced and qualified and qualified by experience also....
Friday the 25th of October 2013, Niki was performing at Sails Sports Bar at the Mackay Marina. She asked if anyone had any requests. "yes", came the reply, "Can you play here every week?"
It is not uncommon to hear these kinds of comments about Niki, along with being told that she sings covers of the top songs better than the original artist and being told she should be on X-factor etc...
Are you looking for someone to provide musical entertainment for your Venue, Wedding or special occassion? Are you looking for entertainment that is classy, quality vocals with the ability to take you from dinner background music to accoustic classics and then to get your toes tapping and dancing the night away?
For many years Niki has been regularly performing as an entertainer
at some of the clubs, restaurants and pubs.
AND
also provided the music for numerous weddings and wedding ceremonies.
Formal Qualifications: Bachelor of Music Performing Arts, majoring in Contemporary Voice. Niki studied both contemporary and Jazz and studied major elective subjects in Dance and Drama.
Niki then continued her studies obtain a Bachelor of Learning Management (teaching degree)... and Niki teaches singing.
ENTERTAINMENT WORK HISTORY
1997-1999

began formal entertainment work- Entertainer, (Singer / pianist)
Performed regularly at Malcolm's Restaurant, Rockhampton, and up till leaving Rockhampton on the 1st of May 1999 had been working at Palmers Restaurant, Leichardt Hotel, Rockhampton.
1999-2005

Entertainer, (Singer / pianist)
In Mackay, Niki worked at various places including;
The Ocean International
; Coco's bar and bistro; The Shamrock Hotel;
Brothers league club
; Sarina surf life saving club;
Western suburbs league club
; Kohuna beach resort; and also many wedding ceremonies. In 2003 she performed at the Coffee Club, Satchmo's and the Church on Palmer.
With the Jazz department of the Conservatorium (CQCM), Niki performed at many various venues on Hamilton Island, both as part of a group and as a solo artist, and also in Cairns, Rocky and Yeppoon.
In 2004 Niki performed at regularly at the Platinum lounge for some time, and provided entertainment for some private functions such as cocktail parties, school fairs and fashion parades.
2006
– Niki continued to work weekly in entertainment at the Yacht club, Harrup park Country Club and various other functions.
Moved to Cairns to take up a full time teaching position at Trinity Anglican School. Still singing solo and in bands, but no paid gigs this year.
A couple of Wedding gigs in Townsville and then the odd function. At the end of 2008 and first half of 2009 Niki had regular gigs at the Kooyong Hotel and occassional gigs elsewhere. Weddings in the latter half of the year and gigs at the Austral Hotel.
In March Niki's husband died of prostate cancer. Things slowwed for a bit. Niki had a couple of gigs at the Austral in the early part of the year, and then some at Western Suberbs leagues club, a few private functions such as birthdays and weddings. She also taught singing privately and with Roby Roger's School of Dancing.
With all that had happened with her husband, Niki decided she needed to get away and competed in the Bundaberg Country Music festival. She came home with first place trophies for the Bush ballad, vocal, country rock and Gospel sections.
2011 - 2013 more trophies from various festivals and plenty of gigs mostly at Souths and Sails at the Mackay Marina, also Daffodil ball, relay for life and functions.... and exciting stuff with the CD and all.... Niki's song Born in Boots received air play both nationally and internationally, as she was personally contacted by french radio station and one in the Netherlands. Niki's film clip for the same song was played on the Country Music Chanel.
In 2014 Niki hopes to have another CD released. This one is predominantly country rock style and lots of fun to perform live and the songs have been tried and tested on live audiences and many have already won places in songwriting competitions.
some parts of this site may be a little out of date... I'll do my best to update...
Below is a photo of Niki with Trophies won at the Rockhampton music festival 2013.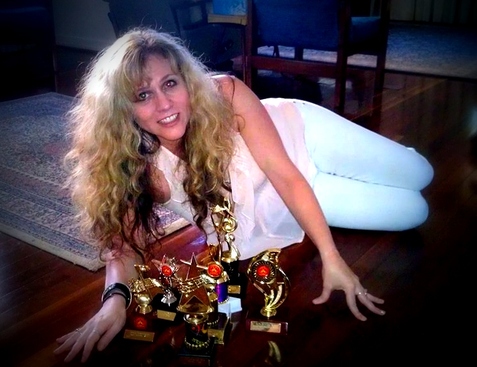 Stay tuned for more updates to the site
Check out the new pages - GIGS! to keep friends up to date with where I am.
contact me
Sign my guest book